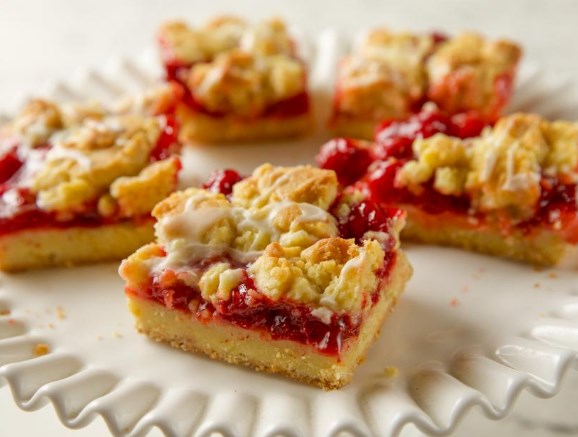 Keto Cherry Pie Bars
2019-01-31 09:00:07
A classic cherry dessert is baked into a crowd-pleasing, more healthier treat. It's low carb and keto diet friendly.
Crust
½ Cup Butter, Softened

1 Cups Sweetener

½ Teaspoon Salt

2 Eggs

½ Teaspoon Vanilla

½ Teaspoon Almond Extract

1½ Cups Almond Flour
Filling
1 Cup Fresh Pitted Cherries

¼ Cup Water

½ Cup Sweetener

1 Tablespoons Xanthan Gum

¼ Teaspoon Almond Extract
Glaze
½ Cup Sweetener

½ Teaspoon Vanilla Extract

¼ Teaspoon Almond Extract

2 Tablespoons Water
Add ingredients to shopping list
If you don't have Buy Me a Pie! app installed you'll see the list with ingredients right after downloading it
Instructions
Preheat oven to 350. For the filling, cream butter, sweetener and salt in a large bowl until light and fluffy. Add eggs, one at a time, beating well after each addition. Beat in extract and gradually add flour.
For the filling combine cherries, water, sweetener and Xanathan gum. Once fully mixed, add almond extract.
Spread ¾ of the batter into a greased 7" x 11.6" x 2" baking pan. Spread pie filling over batter. Drop remaining batter by teaspoonfuls over filling. Bake 30-35 minutes or until golden brown. Cool completely in pan on a wire rack.
For glaze, mix sweetener, extracts and enough water to reach desired consistency. Drizzle over top of cherry pie bars.
Print
The Keto Diet Recipe Cafe https://ketodietcafe.com/