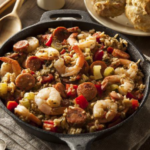 Low Carb Jamabalaya
2017-05-03 20:35:43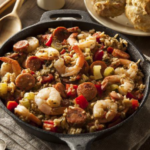 Serves 8
This awesome Jambalaya recipe is stuffed full of shrimp, sausage, chicken, peppers, and spices. It's a six alarm fire waiting to happen and it only serves up 1g of net carb per serving!
Ingredients
2 pounds cooked, peeled, and deveined shrimp

2 pounds chicken breasts, cooked and chopped

1 1/2 andouille sausages, cut into pieces

1/2 cup chicken broth

1 1/2 green bell peppers, seeded and diced

1 zucchinis, diced

1/2 (14-ounce) can crushed tomato

2 cloves garlic, finely chopped

1/2 tablespoon olive oil

1/2 tablespoon butter

1/2 large onion, diced

1 tablespoon Cajun seasoning

1/2 teaspoon hot sauce Cholula
Add ingredients to shopping list
If you don't have Buy Me a Pie! app installed you'll see the list with ingredients right after downloading it
Instructions
Heat olive oil and butter in a large saucepan over medium heat. Add the onion and andouille sausage and cook and stir until the onion starts to brown, about 10 minutes. Stir in garlic and cook until fragrant, 1 to 2 minutes.
Mix in crushed tomato., green bell peppers, zucchinis, Cajun seasoning, hot sauce, and chicken broth; bring mixture to a boil, reduce to a simmer, and cook uncovered until the liquid cooks off and the mixture is thick, about 15 minutes. Stir in chicken and shrimp and simmer until heated through, 1 to 2 minutes.
Print
Adapted from The Ketosis Cookbook
The Keto Diet Recipe Cafe https://ketodietcafe.com/