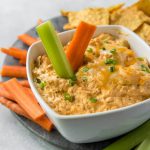 Keto Buffalo Chicken Dip
2019-01-21 06:39:35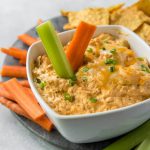 This Keto Buffalo Chicken Dip makes for a delicious, keto-friendly appetizer and snack that can be served with vegetables or low-carb crackers. Its super easy to throw together, especially if you already have some shredded chicken on hand.
Ingredients
2 Cups Shredded Chicken

1/2 Cup Nonfat Greek Yogurt

8 Ounces Neufchatel Cheese, Softened

4 Ounces Crumbled Bleu Cheese

1/2 Cup Hot Sauce
Add ingredients to shopping list
If you don't have Buy Me a Pie! app installed you'll see the list with ingredients right after downloading it
Instructions
Preheat the oven to 350 degrees.
Mix all ingredients together well.
Bake in the preheated oven until hot and bubbly, about 20 minutes.
Print
The Keto Diet Recipe Cafe https://ketodietcafe.com/